If you are looking into becoming a locksmith, or if you require a professional locksmith for a job at home or office, you must know that there are different kinds of locksmiths for various jobs.

What are the different types of locksmiths? Here, we will discuss the various kinds and how you should decide which one is good for the job you need to get done. Here are the primary kinds of professionals.
6 Types of Locksmiths
Are you a homeowner who needs to hire a locksmith for a door knob or a broken key? Or are you an office owner who needs a specialist to set the vault or main entrance to allow employees access to the workplace?
In every situation, there is a different kind of locksmith, and you will need to know which one is the best for you.
Emergency Locksmiths
Many locksmiths say that they are available round the clock, but sometimes you need to get a specialist who will be there within a short time when you call. These locksmiths are more for residential work, but numerous locksmiths offer emergency services for offices as well.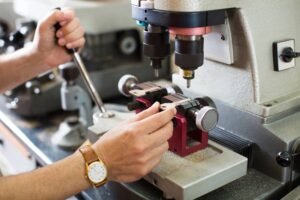 Moreover, these locksmiths can deal with automotive locks as well, so if you are trapped somewhere without a key, they can help you with it.
Mostly, emergency locksmiths are capable of working with different kinds of locks. However, sometimes some companies offer emergency services and send the person who is best fit for the job. 
Residential Locksmiths

Residential locksmiths are the ones that work on locks in homes. The most common kind of locksmiths know the most common locks used in homes. They also can repair or replace.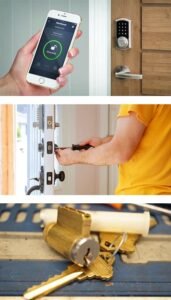 Moreover, residential locksmiths can cut a new set of keys, re-key locks, and help customers in a home lockout situation. There are emergency residential locksmiths available, and many companies deal with residential issues concerning locks.
Commercial Locksmiths
Commercial locksmiths are most commonly from companies. Small and medium companies hire locksmiths who specialize in multi-use security systems. Moreover, commercial lock problems require specific detail and care, such as keyless lock systems and biometric locks.     
Commercial locksmiths can work on anti-burglar alarms and are most commonly available during office hours. However, some companies offer round-the-clock locksmith services, which can include commercial jobs.
You may think that the rates for commercial locksmiths would be higher, and this is true for many cities in America. However, some companies maintain a flat rate for any kind of locksmith job.
Industrial Locksmiths
Industrial locksmiths work for larger companies with multi-security check vaults, lever locks, and high-technology digital locks.

The industrial locksmiths are not hired per hour but are on a payroll for large companies and maintain a regular position in the company.
The bigger industrial clients for locksmiths require the services on a daily or monthly basis. Therefore, industrial locksmiths have to be professional, trained, and available at the industrial site.
These locksmiths provide warehouse services, manufacturing unit services, and industrial services. Industrial locksmiths are also responsible for setting up the safe and checking the vaults, and they are present for installation and all kinds of maintenance work.
Moreover, industrial locksmiths ensure that the frames, security checks, and master key systems are in place.
Safe Locksmith
Safe locksmiths specialize in safe locks and vaults that require specific identity or digital identification. These days, companies and banks have specific identification requirements for access to locker rooms or vaults.
The locksmiths specializing in safes can ensure that the security measures are proper and that every lock is secure. Some of the banks require regular changes of security codes and maintenance of alarm systems.
Safe in business places and homes require special locksmiths as these locks are different from the regular locks at home.
Automotive Locksmiths     
Automotive locksmiths deal with car or other vehicle locks. If you have an emergency related to the car lock or if you have accidentally locked the key inside, a locksmith can help without causing any damage to your car.
Automotive locksmiths can be instrumental in rescuing a bad situation when you are trying to meet a deadline or have to ensure safety with access to your automobile. 
All these different types of locksmiths are necessary as we all have been in situations where we need immediate attention for lock repairs or unlocking of doors that we have lost access to.
Knowing which type of locksmith you would have to hire is good information and can help with various situations.
Conclusion
There are different types of locksmiths available, and whenever you have a particular need, you should know which professional to hire.
We have discussed the different types of locksmiths and also given a short description of each. You will now be able to find the best fit for your particular needs.